50 Year Reunion
Clearwater High School 50th Reunion Notes
Reunion Committee Members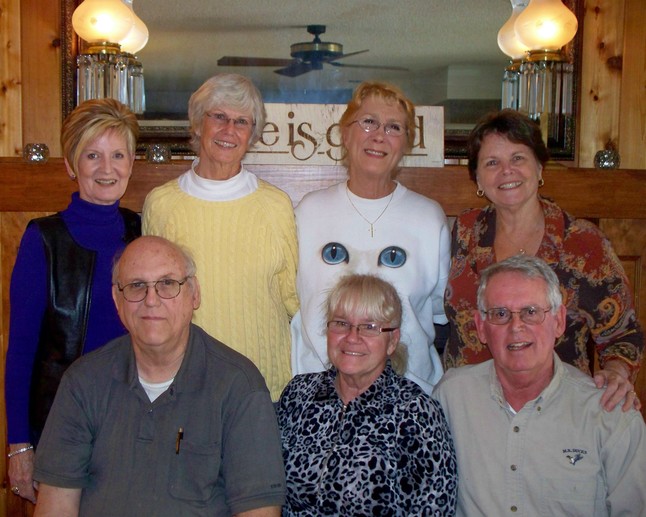 Reunion Committee Members
From left to right
Rear: Laurie Whatley, Shirley Bowes (Johnson), Elaine Kosky (Caskey), Sue Rogers (Howard)
Front: Bill Bassett, Korki Sherry (Haney), John Chittendon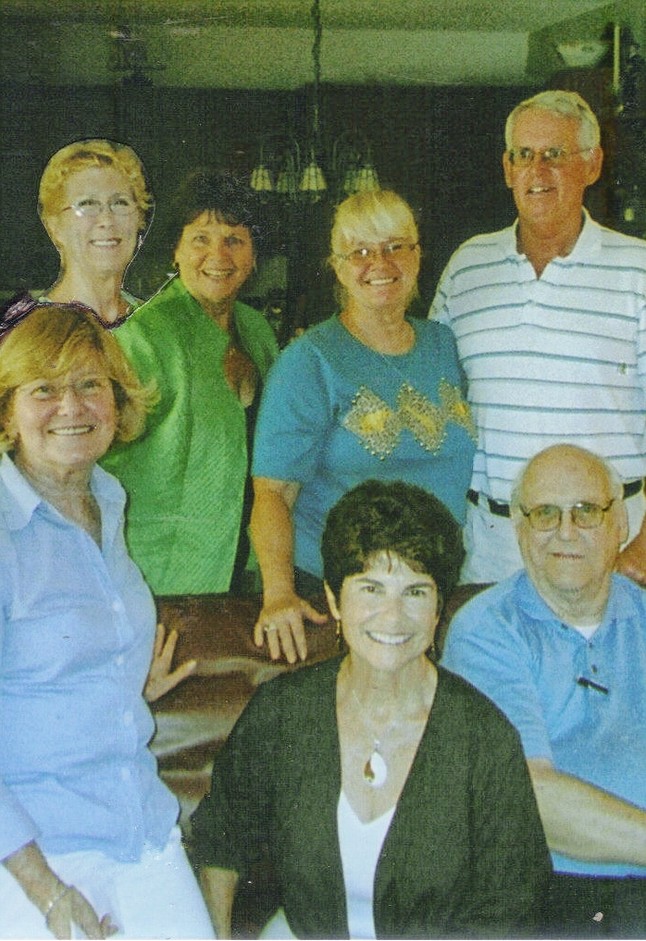 Front: Ruthie Whitney Duncan, Jo-Ann Catanzaro Westafer, Bill Bassett
Back: Elaine Kosky Caskey, Sue Rogers Howard, Carol "Korki" Sherry Haney, & John Chittenden
CHS REUNION COMMITTEE MEETING
MINUTES
NOVEMBER 10, 2012

In attendance were: Bill Bassett, Sue Howard, Korki Haney, Elaine Caskey, John Chittenden, Dr. John Ward, Shirley Bowes Johnson, Ruth Duncan, and Laurie Whatley.

We talked of the reunion and all agree that everything went great. We discussed finances, income and expenses.

Bill, Shirley, Ruth and John will handle future finances thru a financial institution to be selected later. All expenses for this reunion were approved.

41 mugs left over, Shirley has them as well as the pens. Please order one if you like.

Bill will be reimbursed $80 for name tags. If anyone else that needs reimbursement, please let the committee know.

The web site has been a real boon to the reunion. John Ward will work on the web site with Bill. The committee funded the web site for ten additional years. We will now be good until 2024. The vote was 6 to 3 that Bill and John Ward will co-administer the site.

Alice Shemet (Rubright) donated her flag twirler uniform. It will be evaluated for cost of care and donated for display to CHS.

Gifts were given to committee members for their fine work.

The committee agreed that it would be nice for classmates to get together for fun. We decided to meet for dinner on the 2nd Saturday of each month at 6 pm at O'Keefe's Restaurant in downtown Clearwater on Ft. Harrison Ave in the general latitude of Morton Plant Hospital starting January 12. (Too much going on in December). In future months, we will try new places to eat. All are invited and are welcome, so mark your calendars for Saturday, January 12 for dinner with friends. Please spread the word. Lets have fun.
Clearwater High School
50th Reunion Committee Minutes
September 22, 2012
Meeting held at John Chittenden's home, 17 Seedling Drive, Safety Harbor

Those in attendance were: Bill Bassett, Korki Sherry Haney, Shirley Bowes Johnson, Elaine Kosky Caskey, Sue Rogers Howard, Laurie Whatley, Jo-Ann Catanzaro Westafer, and John Chittenden.
We need another $600 to continue the web site for another 3 years. By committee vote, our account must have a minimum balance of $600 after the reunion to be used for the web site for the following 3 years.

28 rooms at the Hilton are being occupied by classmates. Because of the Jazz Festival being in town that weekend, the hotel is now at 100% occupancy. All classmates who are not staying at the hotel and will be driving to our Fri. and Sat. events will need to pull their car up to the valet attendants at the front of the hotel and state that they are attending the CHS 50th Reunion events so that the valets will then know to give you a parking pass to self-park on property (cost is $5 for event parking, $7 for all day parking and $14 for valet parking). If anyone wants to park overnight for some reason, please check with the valets for that information. Of course you have other options to either park in town and catch the Jolly Trolley, or find your own parking spaces on the beach yourselves. Try to come somewhat earlier than the start time (6PM Fri. and Sat.), so that you can get registered comfortably.
The registration table will be open at 5 PM. Reunion event hours are 6-9PM Fri....6-11 Sat. Saturday night dinner will be served around 7PM.
No one will be allowed in on either Friday or Saturday if they have not paid and are not on our list. If you HAVEN'T paid yet, you NEED to send it so that Shirley has it - IN HAND - by Oct. 15th AT THE LATEST, because the Hilton WILL NOT accept any more attendees after Oct. 16th when we give them our FINAL final count.
Shirley will contact faculty to see if any others are interested in attending.


The committee voted to purchase souveniers to be given at the Reunion.
Food selection: Bill will send out a blast email about entree selection within a few days. Be on the LOOKOUT for this email since we need everyone to choose their entree selection in time to inform the Hilton - there will be a specific FINAL RETURN DATE to make your choices. If you DON'T make your selection in a timely manner, the Hilton will decide FOR YOU!!
Those who have been designated to decorate for Saturday night should be there no later than 4 pm on Sat. afternoon. John will bring the big displays Friday afternoon.


Registration Table: Friday and Saturday nights, will be manned by John & Diane Chittenden, Elaine Kosky Caskey, (and possibly, Frances Johnson Heffron and Linda Shaw Stinson) who need to be in place by 5PM without question.


Trivia Question Challenge will be handled by Sue and Art.
There will be a sign-in card at each table on Saturday night and Korki will be making the rounds to get photos of each table grouping. Please be sure everyone at your table writes his/her name on that card so they can be identified as sitting at that table.
Refer to Aug. 18th minutes for Sunday morning breakfast ideas. No one place was decided upon, but everyone can make their own plans at their own costs.....Also, refer to the Aug. 18th minutes for a reminder of what's going on Thurs. night, Oct. 18th for any classmates who are in town and want to possibly see some other classmates before our Fri. and Sat. main events!

We will continue to ask for contributions for extending the web site throughout the years.

Our next meeting is at John Chittenden's house, October 6 at 1 pm.
CHS Class of 1962
50th Reunion Committee
Meeting held 18 August 2012 - Palm Pavilion, Clearwater Beach
In attendance: Sue Howard, Elaine Caskey, Korki Haney, JoAnn Westafer, Ruth Duncan, Bill Bassett
BUDGET: Shirley Johnson was unable to attend; however sent budget information. We have approximately 70 paid attendees for both nights, a few for Saturday night only, a few more for Friday night only. We must have additional attendees to meet our financial commitment to the Hilton. We are short approximately $4000.00.
CONTACTING CLASSMATES: Elaine received reports from those who have been able to contact the classmates assigned at the last meeting. Most have been contacted and we have noticed an increase in classmates signing onto the website and completing their profiles. For anyone reading these minutes on the website – if you have not already done so, please complete your profile! If for any reason you do not wish to be contacted, just indicate that you are not attending the reunion and mention that you prefer not to be contacted. That will shorten our list as we try to contact everyone who has said yes they are attending but have not sent in a check and those who have said maybe they are attending.
SIGNAGE AT CHS: Bill and JoAnn will be visiting CHS this week to arrange for our information to get onto the marquee in front of the school. We are hoping to have "Class of '62 - 50th Reunion – www.clearwater62.com" up there for as long as they will leave it there; then change to "Welcome Class of 62 50th Reunion Attendees" during the third week of October.
THURSDAY NIGHT: We arranged with management to allow any who are available on Thursday, 18 October, to gather at the Palm Pavilion. All food and drink will be on an individual basis that night and we expect to have some of us there by 6 PM. They are open until 11 PM.
FRIDAY NIGHT: From 6 to 9PM, 19 October, will be our cocktail party at the Hilton with hors d'oeuvres and a cash bar. Barbershop quartet Fast Forward will provide entertainment. Additional music will be CD of 60s music. If you have something special you'd like to hear, bring it along. Sunset at Pier 60 will also be ongoing on the beach.
SATURDAY : Saturday, 20 October, during the day – there are no formal activities planned; however there are a number of things available for your entertainment – bicycling (bicycles can be rented at the hotel or bring your own), tennis, tour of CHS, golf or miniature golf, Clearwater Marine Aquarium (home of now-famous Winter, the dolphin), the beach (of course), hotel pool, etc. If there is anything specific anyone wants to help plan, please contact Sue.
SATURDAY NIGHT: From 6 to 11 PM, 20 October, will be our formal dinner – Please don't feel that you have to dress up if you don't want to – be comfortable. About 2 weeks prior to the dinner, attendees will be asked to pre-select their choice of the entrees. Bar will again be cash. We will have entertainment and a DJ – and door prizes!
SUNDAY MORNING: 21 October everyone will be on their own for breakfast. We are told that the Island Grill on Island Estates has a wonderful brunch buffet. Palm Pavilion opens at 11 AM serving lunch, other options are available. Church service information is available at the hotel.
DECORATIONS: Ruth will be helping us rework the decorations for Saturday night (we will be using the decorations from previous class reunions) and will be picking some additional items needed. A small group will be meeting on 6 October at Elaine's home in Trinity to help with assembly. We could use some additional help with this (and an extra glue gun or two) and anyone interested should contact Elaine for time and directions.
SPONSORSHIP FUND: We have established a "Sponsorship Fund" and have already had some donations. These additional monies will be used to pay for any faculty members who would like to attend. We have contacted Mrs. Margaret Howell who will be attending. Sue is to work with Mrs. Howell to determine whether she will attend both nights' functions. We are hoping to have additional faculty members there as well.
HOSPITALITY ROOM: We will have a hospitality room available at the hotel (Sue and Art's hotel room) during the entire weekend. Anyone is welcome to use the hospitality room if needed for changing clothes, small gatherings, a spot to rest, etc., and we hope to have the movie "A Dolphin Tale" playing in the room for anyone who has not had the opportunity to see it (or would like to see it again).
NAME TAGS: Bill and Shirley are going to make the name tags. We want them to have a white background and the names to be in large type and easy to read.
FAVORS/DOOR PRIZES: Korki is working on favors for attendees. She has identified a very affordable item on which will be written "CHS Class of 1962 – 50th Reunion". There will be additional ones available for purchase at the Saturday night dinner. We would also like to be able to offer Tee Shirts for sale in advance, but must be more secure in our budget before we can commit to that project. Korki has found someone who will do them with our selected printing on good quality red shirts at a reasonable price for an order of 100 shirts. We have asked Korki to determine if these can be available in a V neck or scoop neck as well as traditional style and to determine the price if we can arrange for a smaller minimum order. She will report back at the next meeting. We also need additional door prizes and all committee members should make some effort to help in this regard.
NEXT MEETING: Our next meeting was previously scheduled for 15 September at John Chittenden's home (17 Seedling Dr., Safety Harbor); however I will be out of town that weekend and would not have been able to attend. As a result of this, the other committee members have agreed to have that meeting on 22 September instead. It will still be held at John Chittenden's home (17 Seedling Dr., Safety Harbor). Anyone who would like to come and join us to help out is also welcome!
We will need to discuss a memorial table at the next meeting.
CHS 50th Class Reunion Meeting Minutes
July 21, 2012
Those attending were: Sue Rogers (Howard), Bill Bassett, Korki Sherry (Haney), Elaine Kosky (Caskey), Shirley Bowes (Johnson), John Chittenden, Jo-Ann Catanzaro (Westafer), Ruth Whitney (Duncan), Laurie Whatley. We welcome Jo-Ann to our committee. We look forward to her contributions as well as enjoying her company.
John displayed his bulletin board that may double as a movie screen. Please bring clippings, pictures, and any other memorabilia to include on the board.
Sue handed out an agenda for the meeting and Shirley handed out the budget. We now have 59 paid attendees but we need approximately 125 paid attendees to cover all our costs to this point, including our inclusive Hilton contract cost of $11,004 (tips will be included). Any possible unforeseen future costs we will report if and when they occur…. Of course, we want to see more than 125 attendees, so let's get working on it everybody!!!
We need to do more marketing for the reunion. Jo-Ann will help Elaine contact classmates. Elaine handed out a list of names that are "maybes" that need to be called. All committee members are pitching in on the calling.
Bill will be able to show Elaine how to navigate as an administrator on the web site after our next meeting of August 18th.
Jo-Ann will contact CHS to post our event on the marquee and check on a tour of the school.
Bill will arrange the music for the Friday night party. We will have a cash bar both nights.
Friday night – we need tables set up and computers so others can view the website.
Sue and Elaine met with Jason, the coordinator at the Hilton this past Wednesday, July 25th to gather more information for making further arrangements for the room, food, timeline for decorations, etc.
Korki has arranged a 50's & 60's theme with the DJ. Ruth will try to arrange for famous singing artists of the era to possibly attend – no promises!
Korki is researching the possibilities of offering T-shirts for sale. She will select some designs and present them to the committee for approval. The purpose of this idea is to raise money to help pay for the reunion, mementos, etc., and the web site.
The committee wants to offer free party favors for the reunion but we must keep costs down. All committee members are asked to look around for ideas and present them at our next meeting.
We will post the reunion booklet on the web site afterwards so that everyone can just print out what they want.
Bill and Shirley will arrange for name tags.
Saturday fun - Elaine is working on entertainment.
Shirley will contact Bill Justice to find out about faculty members who are still around and might be interested in attending the reunion. Margaret Howell and Doug Mason were also mentioned. We will check on others.
Ruth will check on church services and times in the area for those that may want to attend Sunday services.
Thursday, Oct. 18th will be an open invitation at the Palm Pavilion for dinner – 6 ish. Due to our budget limits it must be Dutch treat. Let's get together . . .
Ruth and Sue will check on boat rides. John will look into bike rentals and bicycle rides in the area.
Door prizes? Gift certificates? We all need to work on freebies for door prizes. Paul Boudreau donated a gift certificate for $25. at Capogna's Dugout on Gulf-to-Bay Blvd. Thanks Paul!!!
We will have a hospitality suite with Sue Rogers (Howard) and Elaine Kosky (Caskey) as hostesses. If it gets too crowded, we will have the option of opening up two extra adjacent rooms.
Our next meeting, Aug. 18th will be held at the Palm Pavilion at 1 pm (unless otherwise noted). Topics will include events at the Palm Pavilion and further planning.
The September 15th meeting will be at John Chittenden's house at 1 pm.
CHS Reunion minutes - May 19, 2012

Bill Bassett, Elaine Kosky (Caskey), Korki Sherry (Haney), Sue Rogers (Howard), Shirley Bowes (Johnson), and John Chittendon attended.

Elaine reviewed the names of missing classmates that we have little information on including Fred Brown, Nancy Hall, Robert Kling, and others. All committee members will continue to track down missing classmates.

Elaine and John are now administrators on the web site.

Classmates need to register at the hotel ASAP in order to receive the lower rates. Notifying the website does not constitute registration at the Hilton and will not reserve a room. We need to know how many will be staying at the hotel.

Shirley gave a report of income/expenses. We will encourage classmates to send in their money ASAP.

John will make a display of old news articles from CHS that Korki has recieved from Bob McClung.
We will be looking for donations from classmates to pay for faculty members that we've invited who may want to attend.

We need money-making events or other means to pay for a memorial booklet. We may also do a booklet online. DVD's with photos and video will be available for purchase at the reunion.

We still need another 75 people to pay and attend to break even.

We are considering raising the cost of attending the closer we get to the reunion.

Will there be ample seating for the Friday party? We will check on it. Sue's quartet will perform for us on Friday night.

Committee members will have a CHS face painting (tatoo) for recognition at the Friday night get-together.

Name tags and souvenirs were discussed including T-shirts, cups, mugs, or pens.

We need a screen for projection. John will check with CHS.

We will check if there will be a CHS home football game on Friday night. Elaine will put together a skit for the Saturday night event.

This may be the last reunion for some people, so let's encourage people to attend.

Our next reunion committee meeting is scheduled for June 23 at 1:00 pm at John Chittenden's house at 17 Seedling Drive in Safety Harbor. We do have fun at these meetings, so everyone is invited to come and join us.

Reunion Committee Meeting Minutes
September 17, 2011 - We first met at the home of Sue Howard in Oldsmar. In attendance were Sue Howard, Bill Bassett, John Ward and his wife, Elaine Caskey, Korki Haney and me, John Chittenden.
Sue reported that there was approx. $1100 in the bank from last reunion.
It was decided that the reunion should be held in October of 2012.
Elaine will research a venue: the Biltmore, Sharaton Sand Key, Innisbrook, and the Hilton on Clearwater Beach.
Bill will locate a large cardboard juke box and store it at Elaine's house.
All members of the committee will contact others to try and increase the size of the committee.
John Ward will work on a web site for the reunion.
John Chittenden will work on contacting any teachers from the class and inform them of our reunion plans.
It is estimated we will have 150 to 200 in attendance.
There will be a special tribute to Al Galbreath.
All members will continue to look for other classmates and also invite others from other class years.
Our class size is 397.
Our next meeting will be October 15 at John Chittenden's home. Names and addresses were exchanged at the meeting.
Meeting - October 15, 2011 -
John C, Bill, Elaine, Korki and Sue were in attendance.
Elaine looked into a venue for the reunion, and we all are to meet again at the Hilton on Clearwater Beach to look at the facility and take a tour November 12.
Sue will find a DJ to play 50,s and 60,s music for a dance.
Mail outs will go out in January once the decisions of venue and costs are made. Korki will check on the reunions of the classes of 60 and 61.
Bill will continue to keep up on the juke box and a CHS banner.
Bill will look into doing Class Creator.Com and set up the web site.
Meeting - November 12, 2011 -
Hilton on Clearwater Beach. John C, Elaine, Sue, Bill and Korki met with the rep. from the Hilton Hotel, Jason Pratt.
The date for the reunion is set for October 19 thru 21 of 2012.
The committee voted unanimously to have the reunion at the Hilton. We toured the facility and discussed costs.
Rooms will be $149 for a room with no view, $169 for a better view (e.g. Bayside), and up to $189 for beach front.
The Friday party will cost $40 and the Saturday event is $70. Both events will be $100. This will include a Saturday dinner dance.
The hotel will require a 25% deposit on signing of the contract (approx $3000) for the rooms. Every effort is being made to keep costs down.
It is undecided about a Sunday event.
It was decided that August 1, 2012 is a good date for a deadline on classmates submitting funds for the activities. This will give the hotel and the committee ample time to plan food and arrangements. The hotel rep. said it is cheaper to do a plate dinner than a buffet, so to keep cost down, that's what we'll do.
Parking is $5 for an event, $7 all day, or $14 for valet at the hotel. Hotel is non smoking in the building.
There will be no meeting of the committee in December, but Bill will try and get out a e-mail to all by Dec. 1.
There was no decision on a January meeting.
Meeting - January 14, 2012
CHS Reunion minutes. Jan.14, 2012. 1 pm at John Chittenden's house.

In attendance : John Chittenden, Sue Rogers (Howard), Elaine Kosky (Caskey), Bill Bassett, Korki Sherry (Haney), Shirley Bowes (Johnson) , Laurie Whatley

We are firm on October 19-21 for the reunion. The web site is up and running thanks to Bill for all his good work.
The reunion will be at the Hilton Hotel on Clearwater Beach.
Shirley is handling the money. We have $2100 in the bank at this time. We will write a check for $1500 as a down payment for the hotel meeting room.
Shirley presented a financial statement and it was handed to the committee members.
Sue will be in Germany next month, so we decided to meet at John Chittendens at 1 pm on February 18 for our next meeting.
Lorie, Elaine and Sue will tour the hotel for planning purposes and make the deposit.
We all will continue to look for classmates that have not been contacted.
John will go to C H S and talk to someone to get on their web site, and invite the staff.
All attendees including guests must be paid for or sponsored by the committee or someone else.

The hotel offers different prices for different meeting spaces. We will contract for the least expensive space costing $10,000 but we will entertain the possibility of an upgrade later if our budget allows
There is no hospitality room at the hotel, but it would be $469 for a room. Sue is asking the committee for $100 per night to take the room for herself and use it for a hospitality room and she will pay the difference. It was approved.
We will use the same videographers used at the last reunion.
Korki will contact someone for a DJ.
We took a picture of the reunion committee group.
Tour of CHS on Oct. 20?? John will check.
Should we do Sunday morning activities? Golf? Bike ride? Jolly Trolly? Marine Science Center? We will discuss at next meeting.
Check Facebook.com for comments. Classmates.com.
Bring all pictures of teachers and photos to the next meeting. Old newspapers too.
Meeting - February 18, 2012

In attendance were Shirley Bowes (Johnson), Elaine Kosky (Caskey), Bill Bassett, John Chittendon, Korki Sherry (Haney)

We continue to review the logistics of setting up the reunion.

Elaine suggested that the earlier a classmate books a room at the Hilton, it will lock in a good rate before our room allotment runs out.

John contacted CHS and will arrange for a tour of the facility in August. We will also have use of the marquee to advertise our reunion. John Sacrius is in charge of the CHS website for alumnae.

Shirley handed out a banking summary.

Go to You Tube, type in Clearwater High School and enjoy several great shows.

We settled on a DJ (Alice) at a price of $495

We will meet again March 31 at John Chittenden's house at 1 pm.
Meeting - Saturday March 31, 2012

Attending were Elaine Kosky (Caskey), Korki Sherry (Haney), Ruth Whitney (Duncan) Bill Bassett, John Chittenden, and Sue Rogers (Howard).

Korki brought several newspaper clippings from CHS Clearlight, the Clearwater Sun, and the St. Petersburg Times.

Elaine continues to look for missing classmates. Some classmates may not want to be found. ANYONE SIGNING ON TO THE WEBSITE SHOULD INCLUDE AT LEAST THEIR ADDRESS AND PHONE NUMBER AND ANSWER THE QUESTION - WILL YOU ATTEND THE REUNION? EVEN IF THE ANSWER IS "MAYBE," WE NEED THIS INFORMATION FOR PLANNING PURPOSES.

The Dunedin Class of 1962 will not be using the decorations made by the Clearwater Class of 1961. They are now stored at Elaine's house. Elaine brought a sample of the 24 centerpieces for the tables, and they will need to be assembled. We will be using a music theme and hot-glue 45 rpm records to the sides of buckets. Star bursts and balloons will be in the buckets, but we may have other items that classmates may take home as souvenirs.

At this time, we have no plans for decorations on Friday night, but this may change following future committee meetings.

Possible souvenirs sponsored by businesses include white mugs with red lettering, paper weights, tee shirts, pens, etc. - also possible door prizes?

We discussed the DJ and their involvement. We have signed a contract and the DJ gave us a form to describe the music format we would like. Music will start at 6:30 and end at 10:30 on Saturday night. Easy listening would be appropriate during the dinner hour from 6:30 until after dinner - approximately 8:30. From 8:30 until 10:30, music should be from the years 1955 to 1965. No Hendrix, Joplin, hard rock, screaming guitars, etc. We may have a special dance for those married over 40 years. Anything else? Bald guy dance? Hully gully contest? Hip replacement dance? Etc. We might give attendees an opportunity to divide the room - marrieds on one side, singles on the other. We will finalize these options at the next several meetings. The DJ will need the balance of the money 2 hours before the dance in cash or a check made out to cash.

Lynn Hoffman is preparing a slide show. He has a projector but we need a screen. One of the highlights will be a tribute to those who served in the military.

We need people to reserve HOTEL ROOMS. They are available in blocks of 10 rooms. Except for the hospitality suite, no one has booked their rooms yet. If you have not called in your reservation by June, it will be difficult to get the better price. Some Committee members are willing to share room costs with other classmates of the appropriate sex and perhaps others can do this as well. Elaine will check with the hotel on several things including sponsorship, door prizes.

We have not yet decided whether to have music on Friday? Bistro tables? We will have a cash bar both evenings. Korki has a karaoke machine, BUT WE DO NOT HAVE ANY APPROPRIATE KARAOKE CDs. Perhaps other classmates could allow us to borrow karaoke CDs for the evening. Any other ideas for Friday night?

The next meeting will be Saturday, May 19th at 1:00 P.M. at John Chittenden's house, 17 Seedling Drive, Safety Harbor.
Directions: The address of the Hilton Hotel is 400 Mandalay Ave., Clearwater Beach, Fl. 33767. Their official website is www.hiltonclearwaterbeach.com. Classmates are responsible for booking their own rooms.